Voted #1 Best Facial
We would like to thank all of our wonderful patrons who supported us.  We will always strive to serve you better. See us at  www.clickondetroit.com/4thebest  in the beauty category under facial.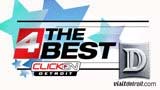 Member
Elysian Salon & Spa is a member of the Rochester Regional Chamber of Commerce.

Salon Hours
Monday: Closed
Tuesday: 10:00am – 7:00pm
Wednesday: 9:00am – 8:00pm
Thursday: 10:00am – 8:00pm
Friday: 9:00am – 5:00pm
Saturday: 9:00am – 5:00pm
Sunday: Closed